This guide is intended to help you get started with connecting one of your forms to a Google Sheet. This will allow responses you have received to be directly sent as a new row each time your form is submitted.

Connecting Your Form To a Google Sheet
1. First you will need to have created a Snapform as well as created a Google Sheet that you would like to connect to. You can view a guide on how to get started with your first form here.
2. Click on "Edit" for the form you would like to connect your Google Sheet to

3. Click the "Next" button at the bottom right of your form builder to navigate to the second page.
4. At the bottom of this screen you will see a "Send form responses to Google Sheets" tick box, tick this to enable this for your form. If you have not connected to a Google Sheet yet on any forms, you will need to authenticate the integration by clicking the "Click Here" link

5. You will then be prompted to either select the appropriate Google account, or log in. Once you have done this you will be asked to "Allow" the Snapforms platform to connect to your Google Sheets account.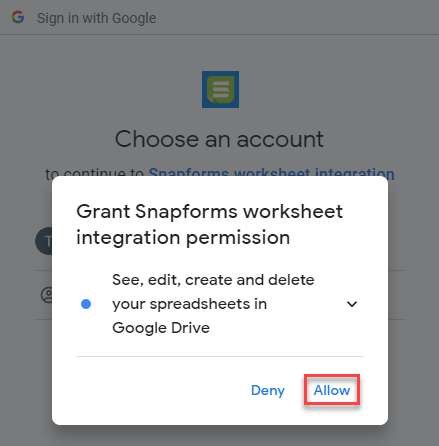 6. Now that you have authorised Snapforms to your Google Sheets account, the Google Sheets section in your Snapform editor should look like the following:
7. You will then need to fill in each of the 3 fields above. You can get this information from the following places:
8. Please ensure the headings in your Google Sheet match the questions in this form. You can optionally add a 'Date' heading in your Google Sheet to add the date of the entry.
Your form submissions should now be entered as a new row in the selected Google Sheet as they are received!
Please note that Snapforms can not guarantee the location or security of data stored on another platform.
Trial our forms for 30 days absolutely free.
Start using our templates now and you can have your form up and running in minutes. If you'd like a hand, we can set up, customise and install your form for you absolutely free.
Start free trial