Snapforms allows you to take payments on your form, using your preferred payment provider.
This includes but is not limited to a payment gateway provider such as Paypal, Stripe, Pin Payments, eWay or your bank (Commonwealth, NAB, Westpac, Bendigo Bank, ect).
If you don't have a third-party payment provider, you can take payments directly through Snapforms and have your payments deposited to your bank account on a weekly basis.
If you are unsure – get in touch with our team for help with taking payments on your form.
This guide will cover the process of taking payments with Paypal – which is one of our more popular providers.
Adding the payment field to your form
Set up a form with all the fields you require, then drag in the 'Payment' field on to your form.

Configure the payment settings
After dragging the payment field to the desired spot on your form, the settings window will appear. Enter in the following settings as numbered below. For Paypal, the rest can be left blank.
1. In the 'Question' field, enter a heading such as 'Pay Now'.
2. Select whether users must make a payment before they can submit the form.
3. Choose 'Paypal' as the provider.
4. Enter a payment amount in this format: 100.00 (Note: If your payment amount depends on choices the user picks on the form, please enter a default amount in here and then see the next section for more info.)
5. Enter your Paypal Merchant ID and decide whether to use Test Mode.
NOTE: If you are just testing and do not yet have your merchant ID, you can tick 'Enable Test Payment mode' and use our test Merchant ID: 4VD24TLPBH7Y2
NOTE: If you want to use your real Paypal account, untick 'Enable Test Payment mode' and put in your own Merchant ID. To obtain your merchant ID: Log in to Paypal account, Click the settings cog in the top right, Click Business Information, Copy the PayPal 'Merchant ID'.
The rest of the fields can be left blank.

Optional: Change price dynamically based on form choices
If your form has a static payment amount (that does not change), leave this unticked and ignore this section.
However if you would like the payment amount to change depending on what the user selects in the form (for example making a product selection), tick 'Change price dynamically based on form choices'.
You will then need to add in one or multiple of the below fields:
1. Dropdown List
2. Choose One
3. Choose Multiple
In order for the choice to affect the payment price, you need to ensure the option has a $ symbol in it.
If needed, adding in multiple of these fields will combine a total price as the final payment amount.
See the screenshot for more info.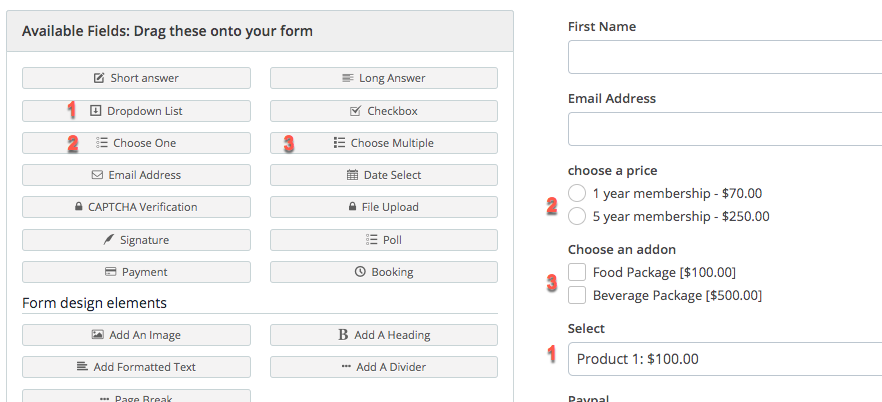 Once done editing, save your form and start taking payments!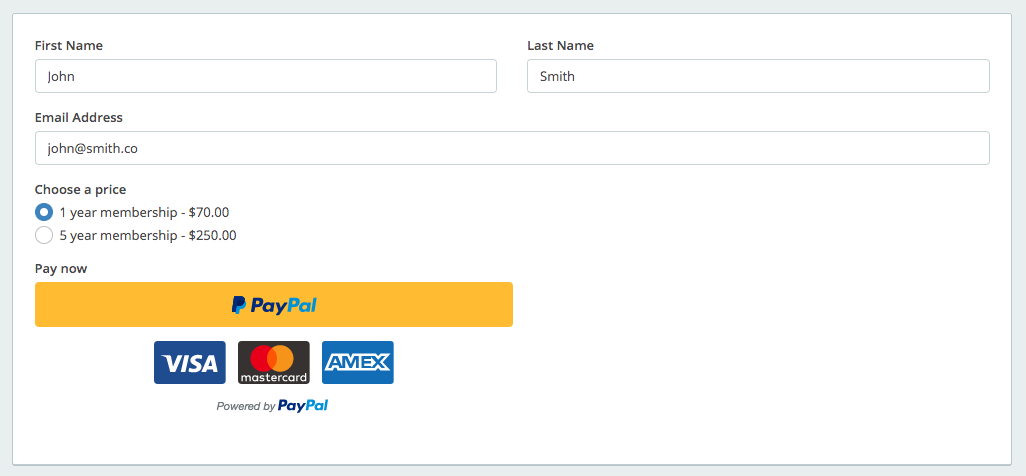 Trial our forms for 30 days absolutely free.
Start using our templates now and you can have your form up and running in minutes. If you'd like a hand, we can set up, customise and install your form for you absolutely free.
Start free trial