View and manage your responses
There are multiple ways to receive, view and download your form responses.
Option 1: Email Notification
Each time a user fills in and submits your form, you can receive an email notification containing their response.
You can optionally attach a PDF copy of the filled-in form to this notification.
Option 2: Excel/CSV export
You can log in to your Snapforms dashboard at any time and export all your form responses in one CSV/Excel file download.
Option 3: View/manage responses online
You can log in to your Snapforms dashboard at any time and view a list of your form responses online. You can optionally print any response from this screen.
Option 4: API and other integrations
Need another way to access your form data, or to have your form data delivered to a specific location or system? Our platform is flexible with integrations that suit your organisation. Get in touch with us for more information.
Exporting/Downloading Your Responses
Log in to Snapforms using the link, username and password from your welcome email.
1. Click 'Forms' on the left hand side to navigate to your forms list
2. You can download all responses by clicking the download icon (2) OR clicking Actions -> Export Responses (3) as shown in the image below.
3. Once you click to download, you can narrow down your export by date range as per the image below:
This will export your responses into a CSV format where you can manage or report on them further using excel.
Note: If your form contains a large number of responses, you will be asked to enter your email address so that your data can be prepared and sent to your email (see screenshot below).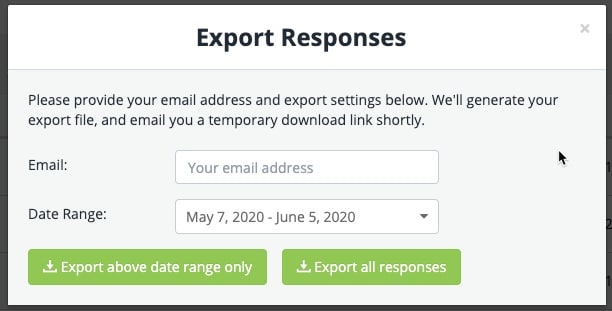 Enter your email address, select your export date and click the Export button. You will receive an email after a few minutes with a link to download your responses.

Viewing Your Responses Within Snapforms
Should you wish to simply view your responses from within Snapforms and not export, print individual responses or save to PDF, you can do this by following the below steps:
1. Click 'Forms' on the left hand side to navigate to your forms list
2. Next click "Actions" next to the form you want to view the responses for
3. Click "View Responses" to navigate to the responses table of the selected form
Next you will be taken to the responses table for the selected form where you have a few different options available to you.
1. By clicking the actions menu next to an individual response, you can either download a PDF version of the response (it will look just like your online form) or you can delete a responses if you have sufficient permissions.
Note: Deleting a response will delete it forever. Please ensure you want to delete the response permanently before confirming.
2. If your form has more fields than can be displayed in the table, or you would like to print a response you can click the ' + ' symbol to expand the individual response. This will show you a screen similar to the image below:
By clicking the "Print" button you will be taken to your browser print dialog with a simple table with the response details to allow you to do a clean print.