File Upload Field
You can add 'File Upload' fields to your form and allow your users to upload files as part of their form response. This typically includes photos, PDFs or other documents.
Users uploading files will be able to choose from files on their computer. If they are using a phone, they will also be able to choose from their photos or take a photo on the spot.
To add a File Upload field to your form, click the File Upload Field in the available fields section on the left-hand side of the screen and drag it to the appropriate place on your form.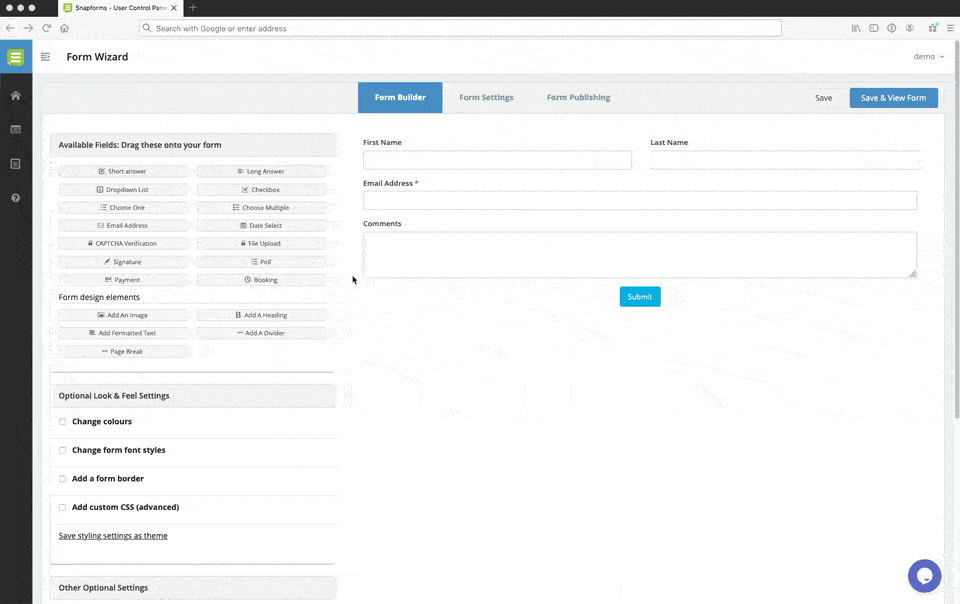 Notes:
There is no limit to the file size of uploaded files, however some user's browsers may time out if they are trying to upload very large files (e.g. above 25mb).
Users can upload multiple files to the same upload field by selecting multiple files during the file selection. Alternatively, you can add multiple seperate file upload fields to the form.
If you have any notification emails set up for when people submit your form, all uploaded files will be included in your notification email.
All uploaded files can be viewed and managed in either within their particular response in the View Responses tab or along with all other files in the File Manager tab.
Advanced Options
While editing your field, click 'Show Advanced Options' to configure some of the below options for this field.
Every field has some unique advanced settings specific to its field type. There are however some common advanced settings that are regularly used across multiple field types.
Question (Label): Entering a value in this field will override the 'Question (Name)' field as the question shown to users on the form. If you'd like to have multiple fields with the same question shown, you can set different 'Question (Name)' for internal reference, and have the same 'Question (Label)' across multiple fields.
Hide the question: Ticking this will show the field for the user to type in, without showing the field question.
Further instructions: Add some informative text just below the field.
Conditional logic: This can be turned on to show/hide this field under certain conditions based on answers to other fields. Read more on conditional logic here.