Creating a form
Using the drag-and-drop form builder, you can create your own form in as little as a few minutes. Follow the steps below to proceed.
Want our team to build your form for you, or send you a few relevant examples? Get in touch with us instead.
Create and name your form
1. Log in to Snapforms using the link, username and password from your welcome email.
2. Click 'Forms' on the left hand side then click 'New Form'.

3. Type a name for your form, choose 'Templates' to start with a pre-made template, or choose 'Blank Form' to start from scratch. Then click 'Next'.
If you selected 'Tempate', Choose your template and click next to enter the form builder.
Add in your form fields (questions)
4. In the form builder you have your form canvas on the right, and the available fields on the left. To add in a form field, simply drag it from the left menu, on to your form. There are several types of form fields with different options you can use to build your required functionality. Once you've added a form field to your form, you can drag it in to different positions in your form at any time.
5. You will need to provide a Name for the field (this is also the question label), then click save to insert the field in to the form.
Note: There are many other optional settings for each form field, found by clicking 'Show Advanced Options'. You can read more about individual fields and settings in our form fields section.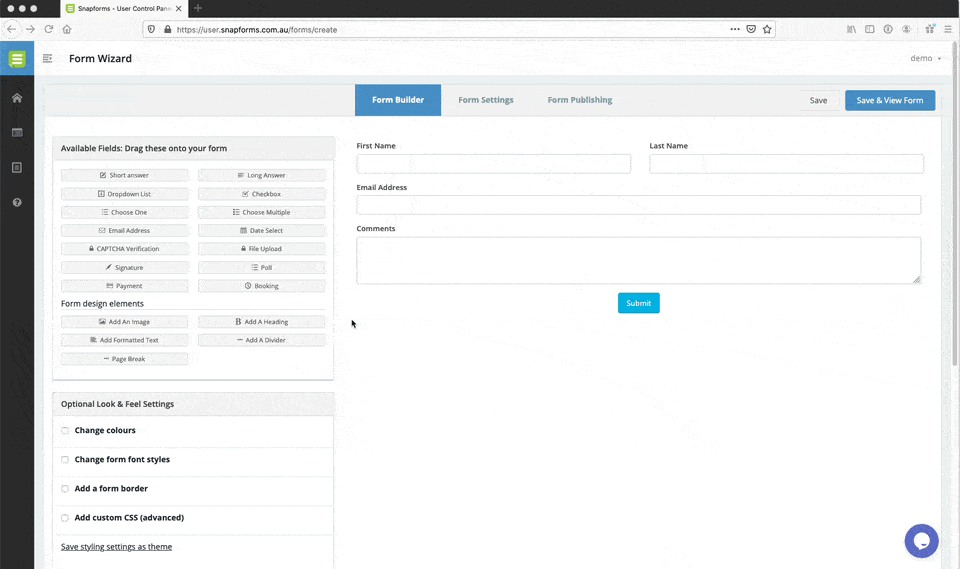 6. Now your new field will appear in the form preview on the right hand side. Repeat this process until all your fields have been added.
You can edit the field settings for any particular field by hovering over it and clicking 'edit field details'. Information about settings for different field types can be found in our form fields guides.
You can delete the field by hovering over the field and clicking 'delete field'.
View your form from the point of view of your users, by clicking the View Form button in the top right.
Form Settings
Once your fields have been added, it's time to edit your form settings to set up emails, workflows and configure other optional form functionality.
Form Design
Need to adapt the design of your form, add your branding, set up multi-page forms or conditional logic for your fields? Check the form design guides.