Auto reply emails
Auto-reply emails can be sent to your form users to confirm the submission has been received.
Email auto replies can contain any content you need and are fully HTML capable allowing you to personalise, thank or send extra information to the people filling in your forms.

Enabling Auto Reply Emails
Auto replies have similar options to notification emails, but offer the ability to email those filling in your forms from an email address of your choosing.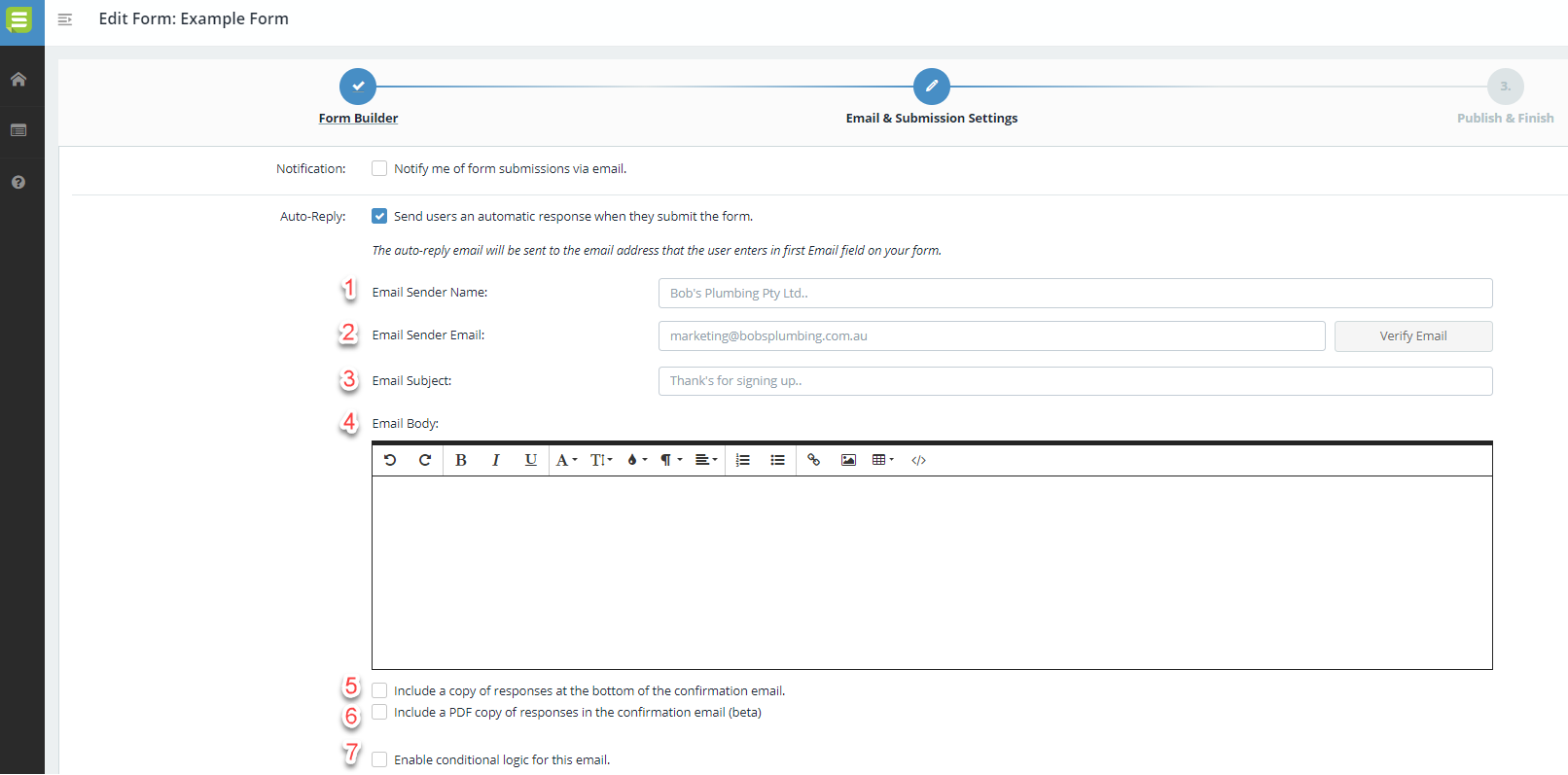 1. Email Sender Name: This is name of the sender for the auto reply email. It is the name your user will see when they receive the email.
2. Email Sender Email: This is the email address that the auto reply will come from. You will need to verify your email if you have not done this before. You can do this by clicking the "Verify Email" button. Once you have clicked this button it should look like below:
You will then receive an email from "no-reply-aws@amazon.com" with a URL that you will need to click to verify. Be sure to check all your email folders. Once you have clicked the verify URL you were emailed, you can then click the "Verify Email" button again and it should look like below:
3. Email Subject: This is the subject of the email auto reply.
4. Email Body: You can customise the body of notification email in this window. This WYSIWYG editor allows you to design the email exactly as you need it (banner images, tables etc.).
5. Include a copy of responses at the bottom of the confirmation email: By ticking this you are able add a list of form fields and their response details at the bottom of the auto reply email.
6. Attach a PDF document containing form responses: This will add a PDF document containing your form response information to the email. This can be useful in saving documents that you may need to refer to, store individually or print later.
By default the PDF that will be attached looks exactly like your online form. The answers from the relevant form response will be populated in the fields.
If you do not need to customise this, you can leave everything as it is here.
If you need to customise the default PDF, design your own PDF document from scratch or use a pre-made fillable PDF instead, click 'Add/edit PDF templates for this form' and follow the instructions in the PDF templates guide.


7. Enable conditional logic for this email: You can also enable conditional logic on auto replies to control whether the email gets sent or not, based on answers in the form response.
Insert form answers:
If you click 'Insert form answers' while editing your email settings, a list of your fields and their respective codes will appear: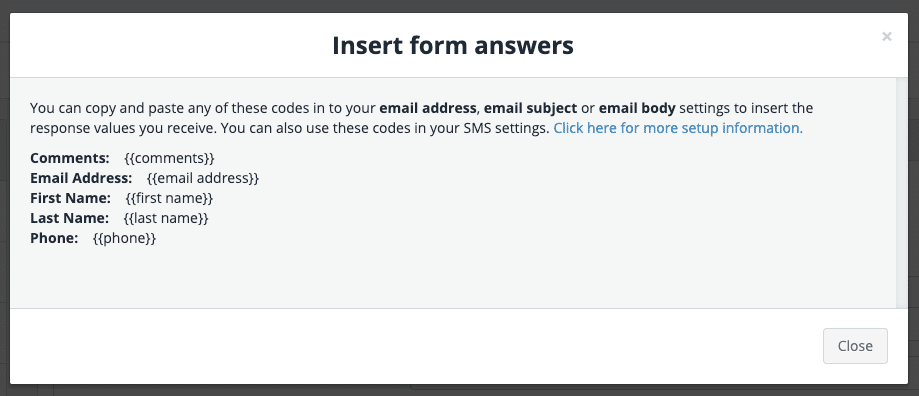 You can use these in your email settings like this:

TIP: Use logs to troubleshoot the emails
If you're unsure whether your emails are working correctly you can check the integration logs for any form response.
To find these please follow the below steps:
1. Click Forms in the left-hand navigation menu, then next to any of your forms click Actions -> View Responses.
2. Next to any of your form responses click View/Download.
3. Scroll to the bottom of the response details to see the integration logs if there are any integrations enabled.