Advanced Workflows
Advanced form workflows can be set up when you need to let multiple people collaborate, review, and edit information on a single form response.
Form workflows allow different people to be responsible for different sections of a form. This feature can be used for:
Approval flows
Multiple signatories
Multi-department processes
Submission reviews
and more!
Note: You do not need advanced workflows for pre-filling a form before sending it to your users or sending simple email notifications.
In this guide we're going to set up a hypothetical Annual Leave Request form that takes an initial request from an employee, sends it to the manager for approval and comments, and then to the HR team to sign off and actioning.
Please follow the below steps to get started using advanced workflows.
1. Create a form and organise your form fields
This workflows guide assumes you have a basic understanding of how to create and use forms with Snapforms.
If this your first time creating a form, please take a look at this form building guide and/or this getting started video first.
It's a good idea to set up your form with all your required form fields before proceeding with the workflow setup.
From the Forms page in your Snapforms dashboard, to create a new form click the New Form button (1), give your form a name (2) and then click Next (3).
If you're using an existing form instead, click Actions -> Edit next to your form to get to the edit screen.

The first thing we need to do is organise your form fields in to groups. Later in the setup we'll be assigning these groups to different steps of the workflow.
Don't worry – you can shuffle these around at any time.
Drag a field group on to your form (1). A settings window will appear where you can give it a name (2). The name you give it is for internal purposes only.
Then click Save & Close (3).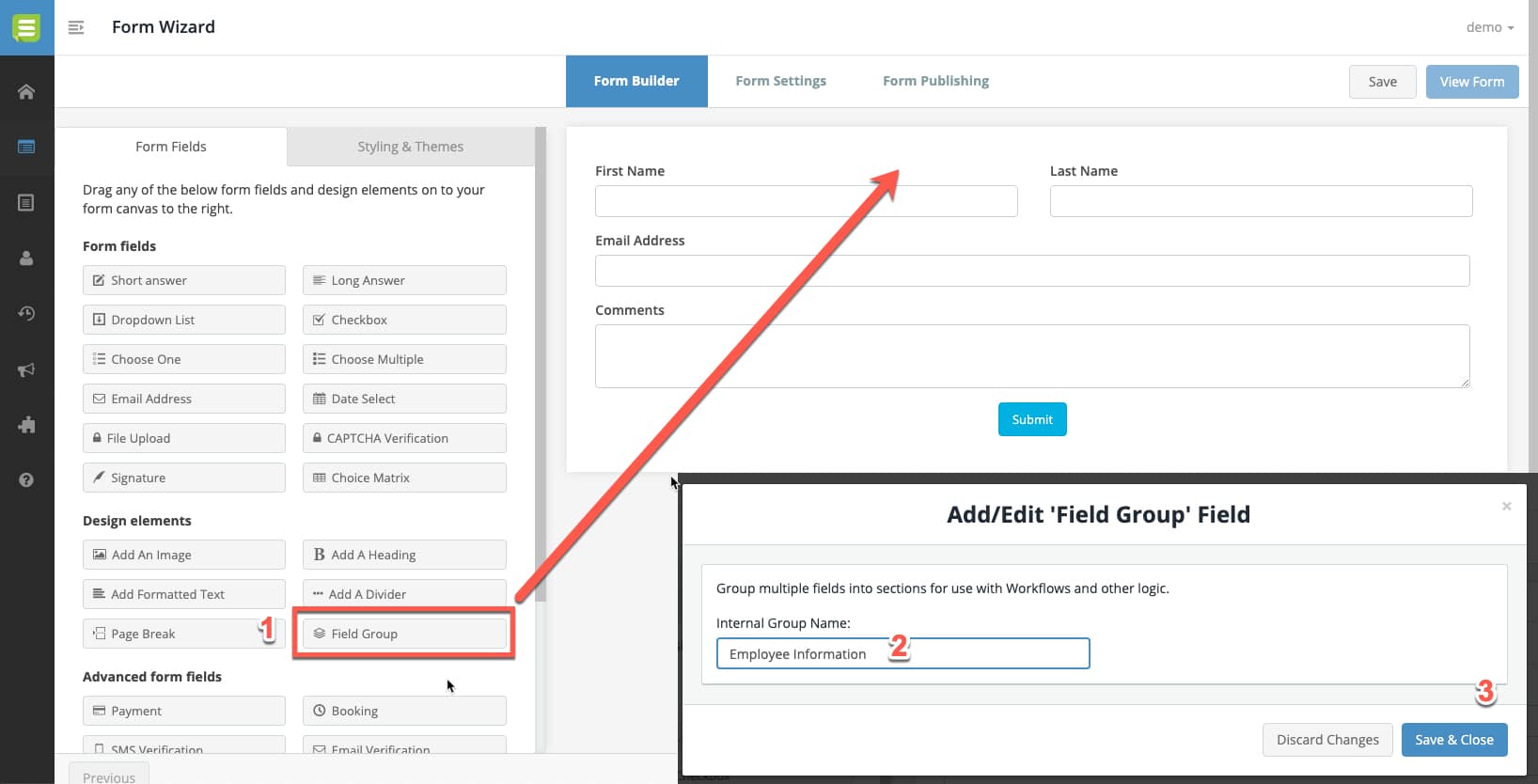 Drag all the relevant fields in to the field group. You can drag both new and existing fields in to the group.
Repeat this process by adding new groups and putting all your form fields in to their respective groups.
You can configure the settings for each field as you would with any other form.
Field Groups and their diving lines are not actually visible to your form users. They are only visible internally.
You may also wish to add headings in to some of your groups to break up the form visually.
Below is a simplified setup we have for our Annual leave request form where we are using 3 groups of fields with the intention of having 3 workflow steps.
2. Configure the workflow steps
Now that your form and form fields have been set up, it's time to configure the workflow steps.
Click the Form Settings tab (1), then click Workflows (2) and then Enable workflows (3).
A default workflow step will appear. This is the first step everyone will see when they visit your form URL.
In our case this is the step that will be completed by the Employee who is submitting the Leave request.
Give this step a name (4). This name is for internal reference only.

Go to the Field Groups tab (1) and select which field groups to show in this workflow step (2).
In our case we're showing the Employee Information field group in this step.
Set the field group to 'View and Edit' (2) which means the person completing this step can submit answers to these fields.
Then click Add another workflow step (4) to continue.
We'll go in to a bit more detail on the workflow step settings below.
Now that you've added another Workflow Step, we'll go through each of the options and settings in each of the three settings tabs.
Step Settings tab (refer to the image below)
Give your step a name (for internal use only)
Customise the email that gets sent to participants when they are assigned to complete this step of the Workflow.

Enter the email address of the person who needs to complete this step of the workflow.
You can optionally enter multiple email addresses separated by a comma.
You can dynamically populate this email address from a field on your form. To do this click the 'Insert form answers' link (2.5) and copy the code for your email field.
Enter the subject for the email.
Enter the email body. In most cases your Email Body should contain the 'Workflow Link' (2.4) if you want your recipient to be able to access and complete their workflow step when they receive the email.
The workflow link should be in your email body by default however if you need to add it yourself, simply highlight some text and click the Workflow link button.
If you need to dynamically insert the answers from your form in to the Email Address, Email Subject or Email Body fields, use the 'Insert form answers' link and copy and paste the codes in to the relevant places.
Tick 'Attach a PDF document containing form responses' to add a PDF document containing your form response information to the email.
By default the PDF that will be attached looks exactly like your online form. The answers from the relevant form response will be populated in the fields.
If you do not need to customise this, you can leave everything as it is here.
If you need to customise the default PDF, design your own PDF document from scratch or use a pre-made fillable PDF instead, click 'Add/edit PDF templates for this form' and follow the instructions in the PDF templates guide.

Tick 'Add all file uploads as attachments' if you'd like all file uploads attached to the email being sent.
Tick 'Enable conditional logic' if you'd like this email to be sent only in certain situations based on what the submitter has answered on the form. This is most often used with the 'Add another recipient option' (2.9)
Click Add another recipient if you want to define another email that can be sent to participants when they are assigned to complete this step of the Workflow. You can define multiple emails for the same workflow step, and use 'Enable conditional logic for this recipient' (2.8) to dictate which one is sent based on the answers on the form.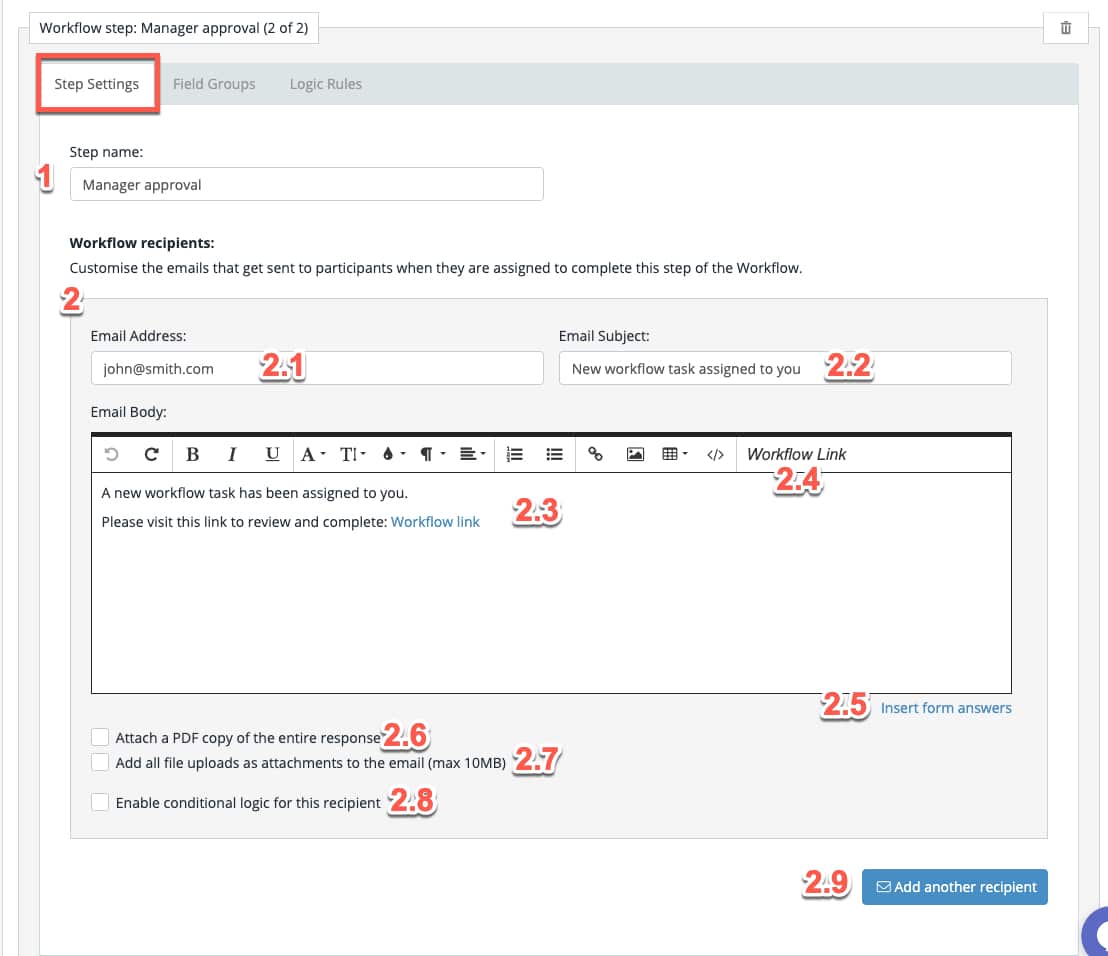 Field Groups tab (refer to the image below)
A list of your field groups will appear.
For each field group choose one of these options:
Not visible in this step – The fields will not be included as part of this step.
View only – The fields will be visible to the person in this workflow step along with any answers previously entered.
View and edit – The fields will be visible and editable.
For our Leave Request form in step 2 (Manager approval) we want the manager to be able to see all the information entered by the employee in step, but not edit them.
We also want the Manager Response field group to be editable since it's the managers responsibility to fill those out in this step.
Logic Rules tab (refer to the image below)
Here you can optionally set rules to configure which Workflow Step will be triggered after this one (step 2) is completed.
Don't set this up if you simply want the next steps to execute in order.
Here is an example of a setup for our Leave Request form that uses Logic Rules to decide what to do after step 2.
Choose a question from our form.
Choose or type a possible answer.
Select what happens if the answer (2) matches what is given for that question (1).

Click 'Add another workflow step' to add more steps. Repeat the process for as many workflow steps as you need.
Once you've set up your workflow steps, save and view your form.
3. Completing and participating in workflows
Start collecting form submissions by sharing your form URL with your users.
When a user accesses your form URL they should see only the fields associated with Step 1 of your workflow.
In our example these are the Employee request fields.
Once that person fills out and submits the form, it will trigger step 2 of the workflow.
Based on your settings for step 2, the person responsible for that step may receive the email with the link to complete step 2.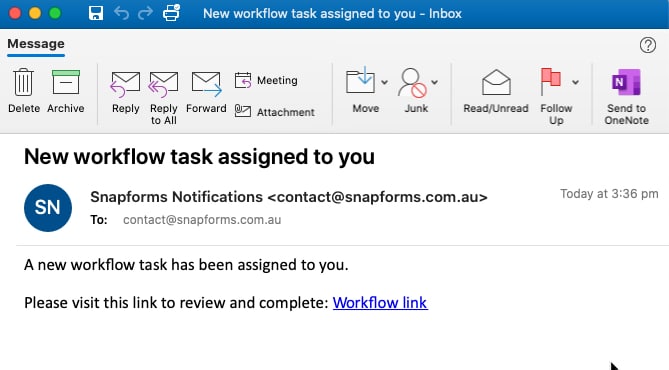 Clicking the workflow link will bring that user to the form and show the fields configured for step 2.
In our example we are showing the Employee request fields (read only) and the Manager fields as part of this step.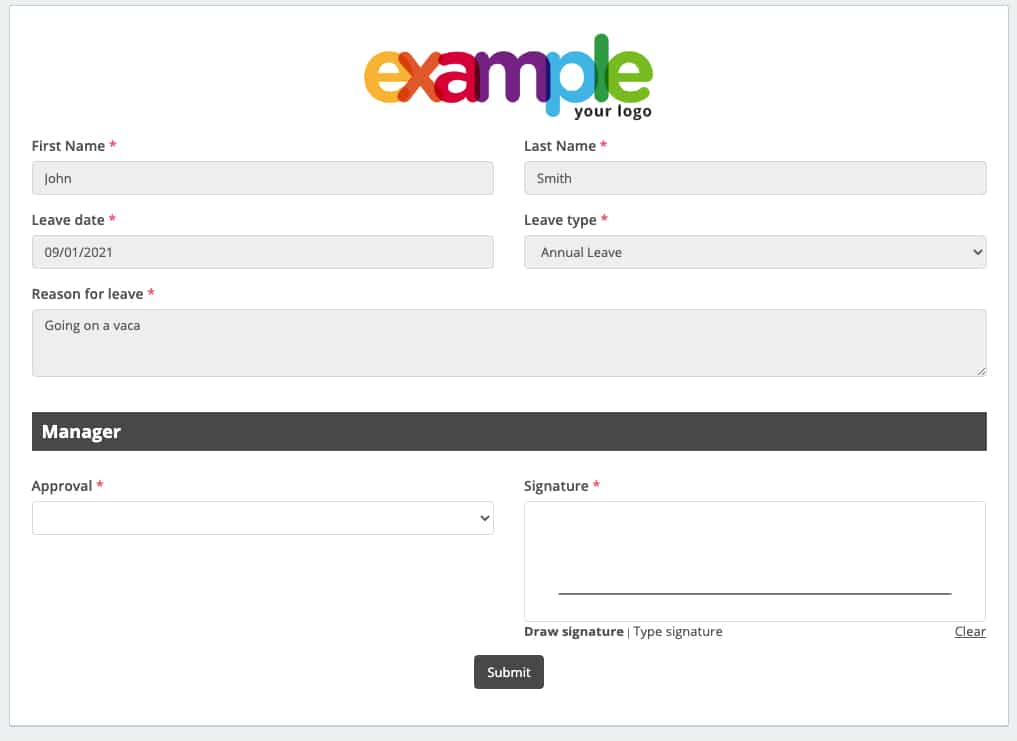 These steps are repeated until the workflow is complete.
A user does not need a Snapforms login to take part in workflows.
You can optionally handle workflows without using email. This is explained in the next section.
4. Reviewing and managing workflows as an administrator
To view your form submissions for your form and check on the status and details of your workflows you can log in to Snapforms and go to Forms (1), then next to your form click Actions (2) then View Responses (3).
From your response list, click Actions (1), Workflow Details (2) next to any of your responses.
A window will appear showing the information for each of the steps related to this particular workflow.
This is where you can view the information provided and the current status of any workflow.
If you look at a step which is already completed you can see the information entered in that step.
If any information is edited in subsequent steps you'll be able to see the history here too.
If you click on a step which has been sent but not completed, you can access the link to complete that step here too.
This can be useful if you don't want to use emails for your workflow steps or if you want to manually complete a step on behalf of someone.
If you get stuck or need any help with your workflow setup, please do not hesitate to get in touch with us!