Cliniko integration setup
The Cliniko practice management integration is one of our popular integrations for clinics and allied health practitioners who want to send their form responses automatically to Cliniko, each time a form is submitted.
Our online forms allow you to create and receive secure digital forms for patient registration, intake, referrals, signed consent, assessments, and more.
How does the Cliniko integration work?
Once a client submits a completed form, it's automatically synced to their file in your Cliniko account.
Got a new patient? No problem! Once they submit an intake, registration, or referral form, a new patient file will be automatically created in your Cliniko account with all their details filled in.
For existing patients, you'll find a PDF copy of the form automatically attached to their Cliniko file. You can also have existing patient records updated with information from your form.
Start with an online form
Before you can integrate with Cliniko – you need to set up your online form in Snapforms.
Whether you have a brand new data collection idea or you're already using some paper and PDF based forms, we can help you get up and running with an online form in minutes.
We recommend you check out our 10-minute getting started video or have a look through our written resources and guides to set up your form.
If you have an existing paper or PDF form and you prefer our team create a draft for you to try out, please send us your form and we'd be happy to help!
How to set up the Cliniko integration
First you'll need to generate a new API key in your Cliniko account. To get this key please follow these instructions from the Cliniko website: https://help.cliniko.com/en/articles/1023957-generate-a-cliniko-api-key
Once you have the key, head over to Snapfoms and edit your form. This guide assumes you've already created your online form using the drag-and-drop form builder. If you haven't done this yet please follow these steps to set up your form first.
Edit your form and head over to the Form Settings tab, as shown in the below image.
Click the Integrations tab.
Tick 'Enable Cliniko Integration'.
Enter your API key (which you generated in step 1 above).
Tick 'Create new Cliniko patient from form response' if this form will sometimes be filled in by new clients, and you want them to be created automatically as a Patient in Cliniko.
Tick 'If patient exists in Cliniko update their details with the answers from this form' if you want the details of existing patients to be updated based on this form response.
Tick 'Send PDF copy of form response to Cliniko' if you want a PDF copy of the completed form to be attached to the Patients 'Files' in Cliniko.
The recommended setup is to tick at least the 'create new client' and 'send PDF copy' options.
Using the Field mapping settings you need to map your form fields with the relevant Cliniko patient fields. The First and Last Name fields are critical for the integration to work, so start by selecting the fields on your form that are used for the patients first and last name.
Click 'Add another field' to map more of your form fields with Cliniko patient fields. The more fields you map, the more information will be filled in the Cliniko patient record if a new one is created or an existing one is updated.
Once done, Save your form using the Save button in the top right.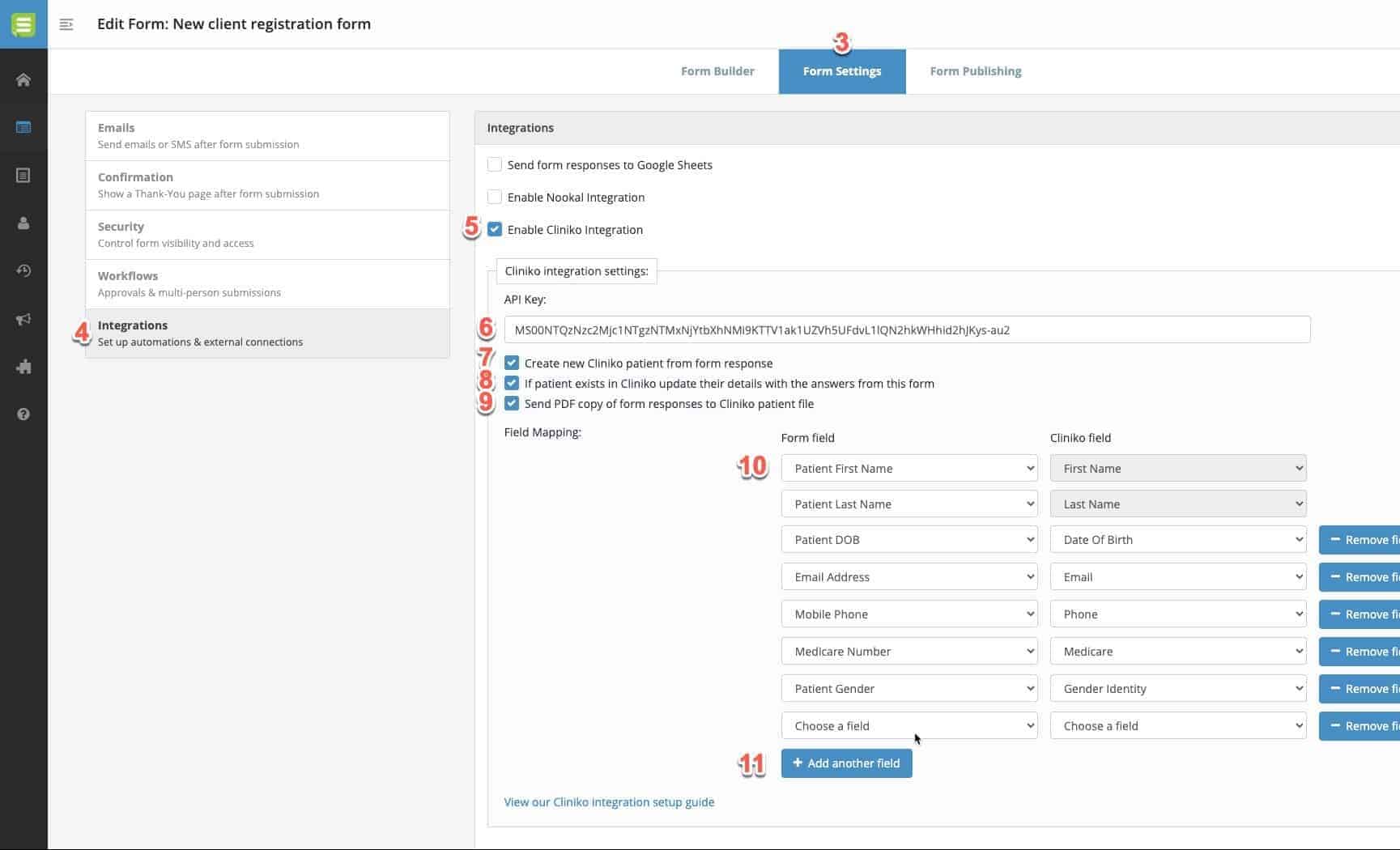 Once you've completed the above steps, your form responses will start to automatically sync with Cliniko.
Feel free to go ahead and give it a go!
TIP: Ensuring your form responses sync with the right Cliniko Patient record

Minimum requirements:
As long as you have mapped the 'First Name' and 'Last Name' fields from Cliniko to the fields on your form, our system should be able to automatically check whether the relevant Cliniko Patient exists or create a new one for you each time you receive a form response.
We will also be able to send a PDF copy of the entire form response in to the Patient file.
Extra:
If your form also contains any or all of the following fields and you have them mapped, it will increase accuracy and help distinguish between Patients who might have the same name. These are not mandatory but good to have:
Phone Number
Date of Birth
Email Address
TIP: Populating all the relevant fields when new Cliniko Patient records are created
The minimum required information for creating a new Cliniko Patient record is the First Name and Last Name. Everything else is optional.
If you have 'Send PDF copy of form responses to Cliniko' ticked, you'll always get a full PDF copy of the whole form response sent to the Patient file in Cliniko.
If your form contains any of these fields, and you have them mapped to Cliniko fields, they will also get populated with information for the new Patient record:
Phone Number
Date of Birth
Email Address
Notes
Address
City
State
Postcode
Country
Accepted Privacy Policy
Accepted SMS Marketing
Emergency Contact
Gender
Gender Identity
Medicare
Medicare Reference Number
Appointment Notes
Occupation
Referral Source
Title
TIP: Populating two form fields in to one Cliniko patient field
There may be a situation where you need to populate two form fields in to a single field in Cliniko, for example in the 'Notes' field.
To do this you can simply map two different form fields to the same Cliniko field. Map them in the order you want them to appear in the Cliniko field. Example below: